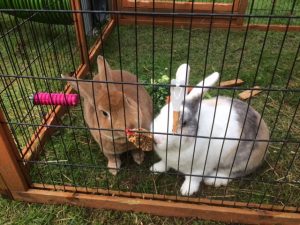 Nicky has looked after our bunnies previously but this time it was for longer, and I was much further away so I was a little nervous of leaving them, however I knew I didn't have to worry, and they would be fine with Nicky in charge.
Not only were they fed, watered, cleaned-out, fussed and had their very own messaging update service, Nicky had to deal with a new layout to their hutch and runs. Then during the storms rescue and reconstruct a flipped run, subsequently having to ensure everything was weighted down to stop it happening again. That's above and beyond!
Incredibly usefully Nicky also trained the boys to come back into the hutch from the runs! A sweet little bribe in the promise of a treat worked perfectly. I'm now reaping the rewards of that training, thank you!
All in all, I am in no doubt that I shall continue to call on Nicky every time I am away in the future. I know I will have complete peace of mind and the bunnies will continue to thrive in her care. A truly lovely lady. A very professional and trusted service. Highly recommended.
C & I D 03/03/19